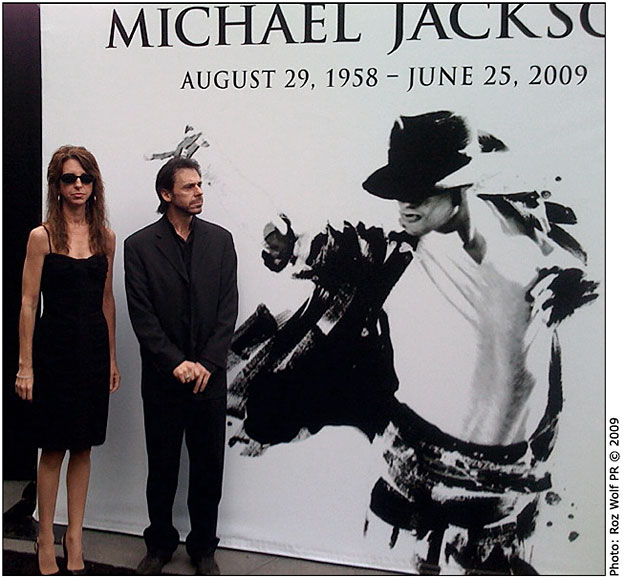 GhettoBitch (aka Marlene Stoller, host of Ghettoradio's "The ROCK Show") and filmmaker brother Bryan Michael Stoller in front of one of the many MJ canvasses at the "friends and family" entrance to the Staples Center.
On Tuesday July 7, 2009 I attended the Memorial Service for Michael Jackson at The Staples Center in downtown Los Angeles.  My brother Bryan Michael Stoller was a very close friend of Michael's for over twenty years.  He asked me to attend the service with him.  In the mid 1980's Bryan wrote and directed a parody of Michael Jackson's Pepsi commercial.  Jackson saw the parody on TV and contacted the TV station asking how he could contact Bryan.  Bryan received a phone call one day and the caller said "Hi, this is Michael Jackson".  Bryan says he almost hung up because he thought it was a prank call. Good thing he didn't because that phone call launched a friendship that lasted over 20 years.  In the years to come Bryan would spend many days and weeks at Neverland with Michael.  In Bryan's 2004 Feature Film "Miss Cast Away And The Island Girls" Michael Jackson is featured as "Agent MJ".  Bryan and Michael had plans to co-direct a feature film with Mel Gibson's company called "They Cage The Animals At Night".  Bryan was scheduled to mentor Michael and his children about filmmaking after his 2009 London Tour.  Bryan last saw Michael about 2 months ago when he visited Jackson for a week in Las Vegas.  They spoke on the phone 2 weeks before Michael passed away.  Since then Bryan has been featured on many news programs talking about his late friend Michael.  Woodiewood did an impromptu live phone interview with me the evening of the memorial.  So rather than write an article describing how it was to be inside the Staples Center, I have chosen to post this interview because it is more descriptive than anything I could post here and it would be pages long.  It is very informative, so please give it a listen.  Unfortunately the very beginning of the interview was not recorded so what you will hear is "already in progress, raw and unedited".
[mp3player height=20 config=fmp_jw_widget_config.xml file=http://poprock80s.com/wordpress/mp3/mj_memorial_interview.mp3]
I have also posted some links below of some of the articles about Bryan and MJ, as well as news clips for the Bryan Michael Stoller interviews:
"They Cage The Animals At Night"  http://www.mtv.com/news/articles/1453757/20020502/jackson_michael.jhtml
NEWS VIDEOS:
(These videos may be replaced on the web by the news source and may not be available here soon.
Please let us know if these links no longer function)
FOX News "Geraldo At Large" Interview with Craig Rivera – 06/27/09
Scroll the page to:  "

Enemies Within
Allegations persist that Jackson's new inner circle contributed to his demise".
FOX News "On The Record" Interview with Greta Van Susteren - 07/07/09
Staples Center, Post Jackson Memorial
Close friend gives insight on 'King of Pop's' relationship with his children".