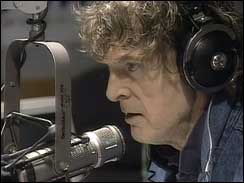 According to the AP, Don Imus, after being canned 8 months ago by CBS for uttering racial slurs on his syndicated radio program is finally back behind the mic. His new cast includes (wait for it… wait… wait…) 2 black comedians.
Imus spent nearly 15 minutes addressing the "nappy headed hos" scandal that sparked a national uproar and got him fired from CBS Radio in April during today's debut on WABC-AM in New York City.
Imus returned to the airwaves today before a live audience at Manhattan's Town Hall. Locally, his show is heard on WTKK-FM (96.9) and several black leaders showed up at the studio on Friday to protest his return.
While he condemned his remarks, Imus said the program was not going to change.
"Dick Cheney is still a war criminal. Hillary Clinton is still Satan. And I'm back on the radio," he said.