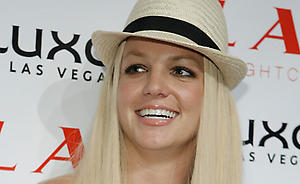 Word on the street is our favorite #1 mom is knocked up again. That's right, Britney Spears is once again pregnant, with child, in a family way, full. Sources say her Baby Daddy is JR Rotem, a music producer she's been seen hanging with on occasion.
Britney denies, the claim. In a text message she sent to Ryan Seacrest, she says "It's B.S., I don't know who made it up. JR doesn't even know what's up. It's fake, completely fake." but In Touch Weekly claims Rotem has confirmed. "It's true." he told them.
She must have figured since she can't have custody of the 2 kids she has, she'd make another one.