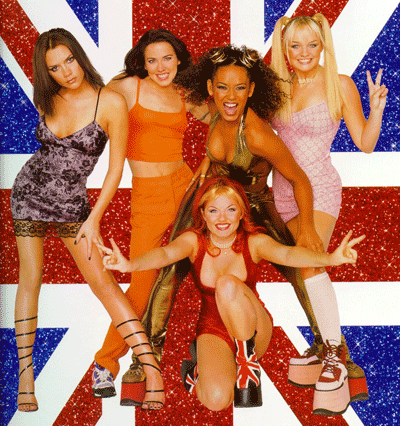 If you've been holding your breath … let it out!
The Spice Girls will kick off their reunion tour in Los Angeles on December 7, 2007. The Girls will play 11 concerts on six continents.
This marks the first time the five girls have appeared together after Geri Halliwell (Ginger Spice) walked out on the band (in a rather dramatic fashion) nine years ago. Mel C (Sporty Spice) defends her abrupt 180 declaring, "A girl's allowed to change her mind", and Emma Bunton (Baby Spice) gushed, "I wanted to be a Spice Girl again".
Scary and Posh were busy in the corner practicing their poses.
From Ginger, regardless of the reported £10 million each they will pocket, "Money is not an issue. We're doing this because it's a once-in-a-lifetime opportunity to be a Spice Girl again. Who would turn that down?" This will be the band's "farewell tour" and thank you to fans. "This is going to be a one-night stand."
Well, lovies, DeeDee must run … time to find my British Flag Bikini!!