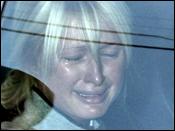 This week was an interesting one for Paris Hilton. She entered the Los Angeles County Jail on Monday to Serve a 45 day sentence for reckless driving. On Thursday she was released due to a "mental health condition". LA County Superior Court Judge Michael T. Sauer was not amused and immediately signed an order for her to appear before him Friday.
Hilton really didn't help her case, as she cried throughout the hearing, her body shook constantly and she dabbed at her eyes. Several times she turned to her parents, seated behind her in the courtroom, and mouthed, "I love you."
Well, all I can say is that I hope this teaches the heiress a message. Mainly that money and fame can't make all your problems go away.