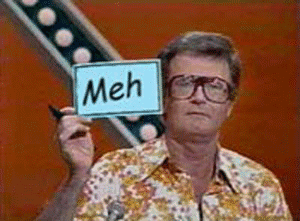 Finding humor with a public that has long believed him dead,
Charles Nelson Reilly passes at the age of 76.
Known more for his appearances on shows such as "Match Game", "Hollywood Squares" (he once made 27 game show appearances in a single week), and "Love American Style", Charles Nelson Reilly was a Tony Award winner with credentials spanning over 50 years who could never quite over-come his comedic stereotype. Reilly made a near-record 97 appearances on "The Tonight Show" starring Johnny Carson while wearing his trademark ascot (I love a good ascot … no – wait – I'm thinking of something else … ) and oversized glasses. In later years, Reilly enjoyed success as a voice artist playing The Dirty Bubble on "SpongeBob".
Reilly led a rich and interesting life involving an institutionalized father, a narrow escape from death during a circus fire that injured over 400 and killed approximately 170 people, and a close friendship with Bert Reynolds (see the connection? … yeah, me neither). Reilly told his story in a one-man act which was made into a movie, "The Life of Reilly", in 2006.
Rest in Peace, Banana Man!