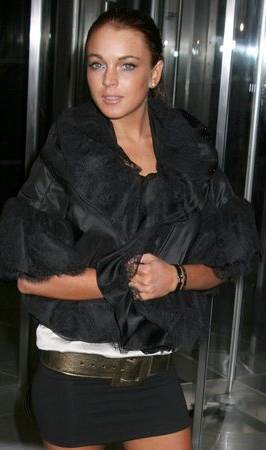 Lindsay Lohan was arrested this Saturday for a DUI after crashing her 2005 Mercedes SL65 AMG with two passengers in LA. Officers at the scene found a "usable amount" of a drug tentatively identified as cocaine in the car. Police arrested Lohan at the hospital for driving under the influence of alcohol or drugs, but was released from custody because she was admitted to the hospital, police said.
The crash was Lohan's third accident in about two years. In October 2005, Lohan and a passenger received minor injuries when her convertible hit a van in West Hollywood. Authorities said the van driver, who also received minor injuries, was at fault. Months earlier, Lohan collided with a minivan when she made a U-turn as the van, carrying paparazzi, followed her from a Los Angeles restaurant. A photographer was arrested for investigation of assault with a deadly weapon but prosecutors declined to charge him. That crash was credited with prompting Gov. Arnold Schwarzenegger to sign a law that set steep financial penalties for paparazzi who commit assaults while trying to obtain celebrity photos.
Lohan has been in rehab in recent months, and immediately went on a cocaine binge afterward. I predict she will be too coked out to make movies in a couple of years.