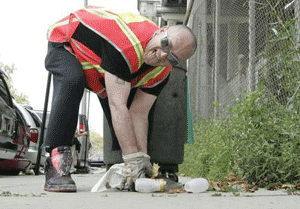 Boy George, arrested in the early morning hours of April 28 for false imprisonment and assault, may soon be trading his community service duds for a pair of prison overalls.
Accepting an Internet invitation on a gay website to pose for pictures, 28-year-old Norwegian escort Auden Carlsen showed up at BG's flat for a "shoot".
"I was convinced I was going to die." After flashing his pearly whites (among other things) for the camera, Carlsen claims to have been "set upon" by BG and another man.
"George handcuffed me to a hook by the bed as they held me down."
Carlsen claimed BG then pulled out a box of whips and sex toys.
"Now you'll get what you deserve." BG is alleged to have said.
Carlsen claims he was able to escape by pulling the hook from the wall.
… And just when it was starting to get good.